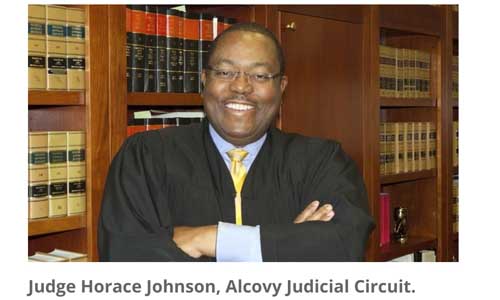 Newton County Superior Court Judge Horace Johnson passed away on Wednesday(July 1) after testing positive for COVID-19 on Monday(June 29).
He was the proud husband of his wife, Michelle, and father to two sons, H. James, III and Bryant. The judge was a faithful member of Columbia Drive United Methodist Church, where he sang in the choir.
Judge Johnson was appointed to the bench by Governor Roy Barnes in 2002 and served on the Superior Court for the Alcovy Circuit (serving Newton and Walton Counties in Georgia) for 17 years. In 2016, his judiciary peers elected Judge Johnson as President of the Council of Superior Court Judges, where he served as that body's first African American leader.
Judge Johnson was born and raised in Covington, Georgia and received his undergraduate degree from Emory University where he joined the fraternity Alpha Phi Alpha, Incorporated, before earning his Juris Doctor from the University of Georgia School of Law.
Judge Johnson distinguished himself through service to the State of Georgia, his local community, and the legal profession. Judge Johnson's many accolades include receiving the 2019 Distinguished Leader for Professional Excellence from the Daily Report, the 2018 Frederick B. Kerr Service Award from the Leadership Georgia Foundation and the Lifetime Achievement Award presented by the State of Bar of Georgia in 2017, among others.
A staple in his community, Judge Johnson served as the past President of the Arts Association in Newton County, Covington Kiwanis Club, and Newton Mentoring, to name a few. He previously served as Chairman of the Board of Trustees for the Leadership Georgia Foundation.
Judge Johnson will be sorely missed.