By Mark Brock, DCSD Athletics Specialist 
DEKALB COUNTY, GA–Southwest DeKalb's Aziz Bello entered the game with just a couple of minutes to play to score two points and grab two rebounds to help the Panthers stave off the Druid Hills Red Devils for a 41-33 to finish off a Region 6-4A sweep at home. 
Xzaviah Taylor's drive for a bucket with 4:33 to play gave the No. 3 ranked Panthers (14-2, 9-0) a 16-point lead (39-23). Southwest DeKalb would go the next 4:15 without a point while Druid Hills behind six points from David Sledge trimmed the lead to 39-33.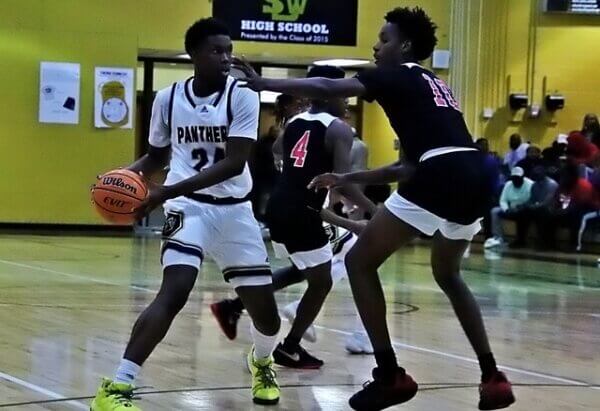 Bello would grab two big rebounds on misses by the Red Devils (9-9, 3-6) in the final 28 seconds of the game and with 18.2 seconds to play he hit both ends of a one-plus the bonus opportunity to help seal the 41-33 victory. 
Southwest DeKalb's tough defense forced the Red Devils into 12 first half turnovers. Xzaviah Taylor lofted a longer than half court shot at the buzzer to end the first quarter to give the Panthers a 12-6 lead. 
Thomas Glanton ended the half on a little less dramatic three as he hit one with 7.2 seconds left in the second quarter to send the Panthers into the break up 24-14. 
Majors scored all seven of the Red Devils' third quarter points but still trailed 33-21 with a quarter top lay as Taylor hit for five points, including a step-back three and got buckets from Isaiah Taylor and Glanton.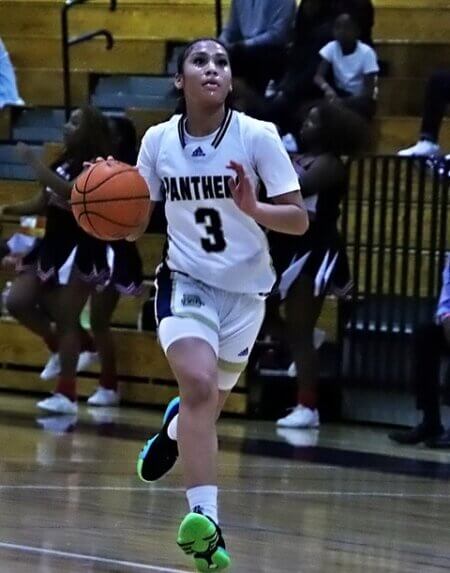 Xzaviah Taylor finished with a game-high 12 points along with 4 assists and 4 rebounds to lead the Panthers. Isaiah Taylor and Messiah Mergan chipped in eight apiece for Southwest. 
Nick Majors finished with 11 points and 4 rebounds to lead Druid Hills. Josiah March contributed six points and 10 rebounds (8 in the second half). 
(Girls) SW DeKalb 64, Druid Hills 34 
The Southwest DeKalb Lady Panthers broke open a three-point game with a 21-0 run in the second quarter to take command in a 64-34 Region 6-4A girls' win over the Druid Hills Lady Red Devils to start the night. 
Anissa Brailsford hit two free throws to pull the Lady Red Devils (4-12, 3-6) to within 15-12 with 6:51 remaining in the first half before Southwest DeKalb (10-7, 7-2) went on its 21-0 spurt to take control.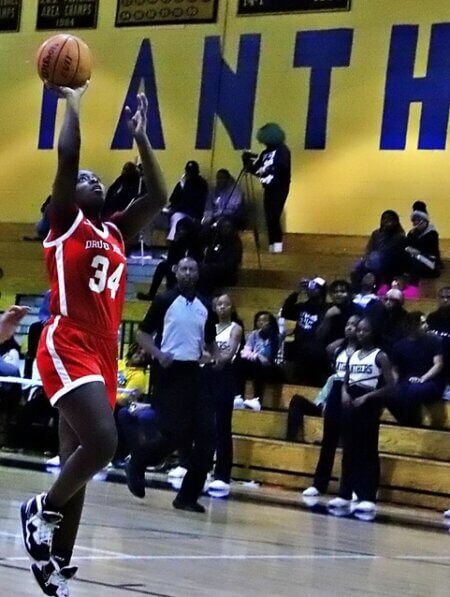 Seven different Lady Panthers scored in the blitz that started with a Jah'naesia Spears three-pointer as Southwest would force 18 turnovers in the second quarter alone. Janiya McCoy added a three-pointer of her own in the run and Camille Files scored two baskets off turnovers. 
Saniya Rice had a pair of free throws and added a steal for a layup with 1:07 to play to end the run with Southwest up 36-12. 
Druid Hills scored three unanswered baskets in the final 54 seconds as Aalon Turner, Tiara Jones and Skylon Forrest all scored to make it a 36-18 score at the break. 
Files and Canty score six points each in a 15-0 start to the second half by the Panthers as the lead ballooned to 51-18 before Marisa Rivers drove in for Druid Hills' only basket of the third quarter. Canty would add four more points in the final 1:06 to make it 56-20. 
Turner scored eight  points in the fourth quarter as Druid Hills trimmed six-points off to deficit to end the game. 
Bailee Canty finished with a game-high 18 points for Southwest along with 5 rebounds. Janiya McCoy added 14 points and 5 rebounds and Camille Files finished with 10 points and 5 rebounds. Saniya Rice scored 5 points and grabbed 11 rebounds. 
Aalon Turner finished with 10 points and 7 rebounds to lead Druid Hills while Tiara Jones added 8 points and 9 rebounds.