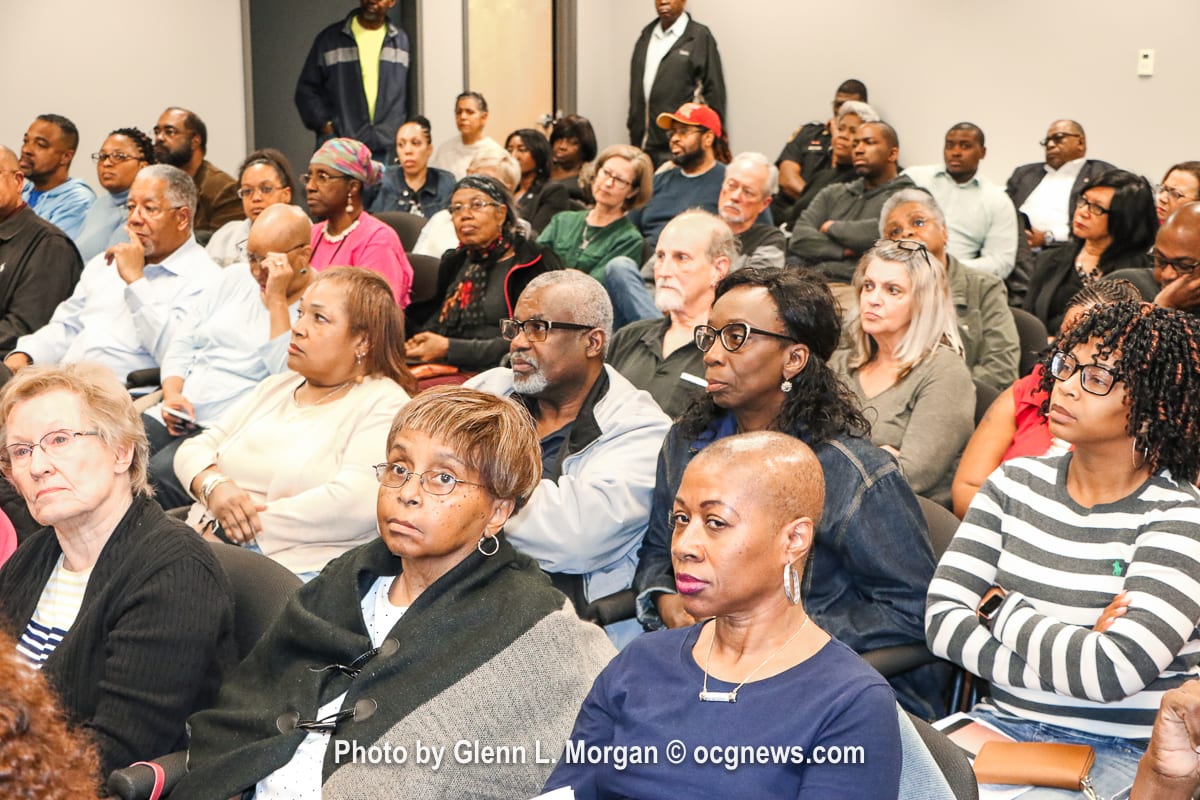 A coalition of residents and other citizens told the Stonecrest City Council at its Feb. 21 meeting that group homes, drive-through fried chicken restaurants and gas stations in the Stonecrest Overlay District are not welcome in the newly-formed city. The City Council denied two zoning proposals and deferred decisions on two others after hearing from the public.
"We are a solid residential community… I'm getting sick and tired of people coming into black neighborhoods trying to put rooming houses, personal care homes and childcare homes in residential areas when there is enough commercial property available," said Faye Coffield.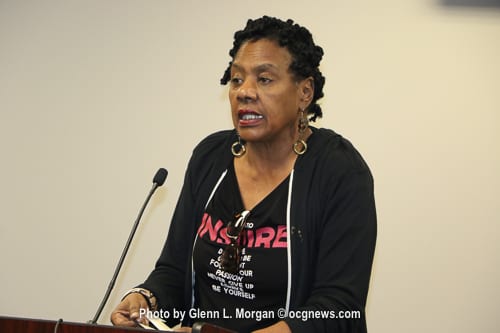 Stonecrest Business Alliance Chairman, Attorney Bernie Knight, told the City Council to reject any changes to the overlay district, including proposals for package stores, gas stations and industrial uses.
"…It is contrary to every principle to the master plan the Stonecrest Overlay was based on," said Knight.
Coffield and Knight were among several citizens who spoke during public hearings for four proposed zoning amendments. The packed meeting, which started at 6 p.m., lasted nearly four hours.
Denied group home for veterans
The City Council unanimously denied a Special Land Use Permit (SLUP) for a personal care home for indigent veterans at 4185 Panola Road. Opponents said the home, which is across the street from Sandstone Estates, would be incompatible to the upscale community.
Denied Popeye's restaurant drive-through
The council denied a drive-through for a Popeye's fried chicken restaurant proposed at 8200 Mall Parkway (in the shopping plaza where Panera Bread is located).
"This idea that all black people want is fried chicken is not true. You got a Bojangle's across the street. We don't need a Popeye's," said Coffield, suggesting that Pesos, a Mexican cantina on Flat Shoals Road in Decatur is a "prime example" of the kinds of eateries she would like to see more of in the city of Stonecrest.
Deferred a decision on boys' group home
In a 4-2 vote, the council deferred action on a group home for boys ages 10 to 16 at 3185 Evans Mill Road. Councilwoman Jazzmin Cobble, who recommended the deferral,  said the Planning Commission should have the chance to receive additional information the community requested from the applicant.
Councilmember Diane Adoma, who represents District 5 where the group home is proposed, however, disagreed.
"Every single one of my constituents are saying no… As the voice of District 5, I have a record of listening to them and I'm not going to break that record tonight," said Adoma.
Councilmember George Turner, who also dissented, concurred with Adoma.
Said Turner: "I like what you're doing. I just think that it is not the correct place for it."
Councilmembers Rob Turner and Jimmy Clanton agreed with Cobble.
Clanton said that while he did not want to put any undue stress on an established community, he didn't want to be unfair to business owners.
"There's this fine line that we walk," said Clanton.
A representative of Atlanta Secure Services, Inc., which owns the home, said the boys would be referred by the Division of Family and Children's Services. He said the children would have 24-hour supervision, therapists on site and high-tech security.
An elderly man who lives in the community said the group home had been illegally operating since at least Halloween. He said four of the children approached him, asking for candy, which concerned him because no children live in the community of mostly seniors.
"If you grant this license to this man who has been operating this house illegally until now, you will be bringing a death sentence to all the elders who are living there peacefully," the man said.
Coffield urged the council to check with police to determine how many times officers have visited the home or any other group homes owned by the applicant.
"These facilities jump from place to place and often in Georgia when you have so many counties together, one county doesn't know the problems of the other county," Coffield said.
Dr. Barbara Lee, a former DeKalb County principal who said she had participated in  a study group some years ago, noted the disparity of group homes on the north side versus the south side. Lee said some 35 group homes exist in District 5, compared to "maybe 1 here or there" in some areas on the north end of DeKalb County.
"We are disproportionately, in this area, overburdened with personal care homes, group homes, children's homes. We don't have anything against children but there has to be better places than to keep destroying our property, " Lee said.
Jimbo Edwards, who spoke in support of the group home, said he felt confident that the group home would not be a problem after visiting the home with one of the representatives.
Sylvia Green, the human services provider for the boys' group home, said the boys would have adequate supervision.
"A lot of times, people stereotype children. They are adolescents but they are not the type of adolescents who are going to be destructive. We have full supervision and not only that, they are given assessments," Green said.
Another supporter also urged the council to approve the application, saying the community should show compassion.
"We've got to love everybody. God gave us the will to love," the man said.
Deferred amendment to the Stonecrest Overlay District
The City Council tabled an amendment to the Stonecrest Overlay after Knight, Coffield and Mera Cardenas, executive director for Arabia Mountain Heritage Alliance, opposed changing the text to permit such uses would hurt areas the overlay was designed to protect including residential communities, businesses and the Arabia Mountain National Heritage area.
"This quite frankly is not a good idea. It's a solution looking for a problem," said Knight. "You do not want to allow industrial uses, you do not want to allow convenience stores with accessory fuel pumps or accessory beer and wine sales south of I-20. "
Knight said having gas stations north of I-20 at Turner Hill Road is fine.
"The thing that has precipitated this change in the text of the overlay is a new QT that is proposed for the corner of Turner Hill Road and Covington Highway," Knight said.
Cardenas said changing the text "completely undercuts the purpose of the overlay" and urged the council to look more comprehensively at the overlay plan.
Approved contract for external audit of city's finances
In other action, the Stonecrest City Council unanimously voted to enter a $17,000 contract with Mauldin and Jenkins to conduct the mandatory external audit of the city's finances.  The firm will audit the city's 2017 finances from May, when the city operations began, to December. The cost will include a Comprehensive Annual Financial Report, which will be available to the public.