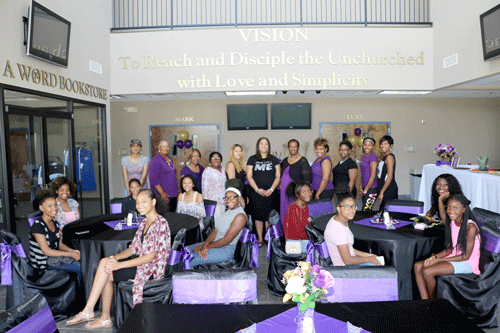 While many back-to-school events around metro Atlanta featured backpacks and school supplies for students heading back to school, pampering was the order of the day for a special group of girls in Rockdale County.
Voices of Faith Ministries hosted a "Back-to-School Royal Pampering Party" on July 22 for female students who are members of its Rockdale congregation. Deaconess June Hawkins Jones said ten students in middle and high school participated in the free mentoring event, which included sessions on skin care, meditation and strategies for succeeding in college. The church's Youth Ministry, under the leadership of Pastor Matthew Jenkins, sponsored the event.
Pastor Jenkins' wife, Minister Whitney Tucker-Jenkins, and her twin sister, Minister Britney Tucker, led a session on meditation and relaxation. The two women, who own Twin Events & Design, showed the girls how to use aromatherapy to relax as the school year intensifies.
"It's important to know how to relax. Using meditation and aromatherapy can help reduce stress and release a lot of negative energy," said Minister Whitney Jenkins.
Kaila Gabaree, a rising sophomore at the University of Georgia who graduated from Rockdale High School with a 4.2 GPA, discussed strategies for success in college.
"They wanted to know about living in dorms, going to nightclubs and that sort of thing. I talked about that but I also told them to start preparing early for big tests such as the SAT and ACT," said Gabaree, who is majoring in biology and minoring in public health. "I told them to join school clubs because colleges really look at you holistically—not only your academic achievement."
Licensed esthetician Kenna Hamilton, who owns a mobile company called Kymistry Spa, LLC in Conyers, led a session entitled "The Royal Spa Treatment." Hamilton showed the girls how to do their own facials with natural skin care products. The girls made their own sugar scrubs during the pampering party.
In addition to the classes during the Royal Pampering Party, the girls enjoyed a continental breakfast and luncheon.
The event was supported by the Voices Parent Advisory Committee, which included Lori Brown, Trinna Benn, Angela Spearman, Pamela Murphy, Marsha Kennerly and Lauren McDougall.
Pastor Jenkins said a back-to-school mentoring event is also planned for males ages 13 and up.
"We're going provide them with free haircuts from D.T.'s Barbershop and we're going to feed them," Pastor Jenkins said. "We're going to be talking with them about different topics–peer pressure, influence, relationships and how to navigate rejection. Our whole goal with the girls and boys event is to pour into them an help them to be better people."
Bishop Gary Hawkins, Sr. is pastor and founder of Voices of Faith Ministries. The church's main campus is located at 2500 Rockbridge Road S.W., Stone Mountain. The Rockdale campus is located at 1290 Sigman Road, Conyers.