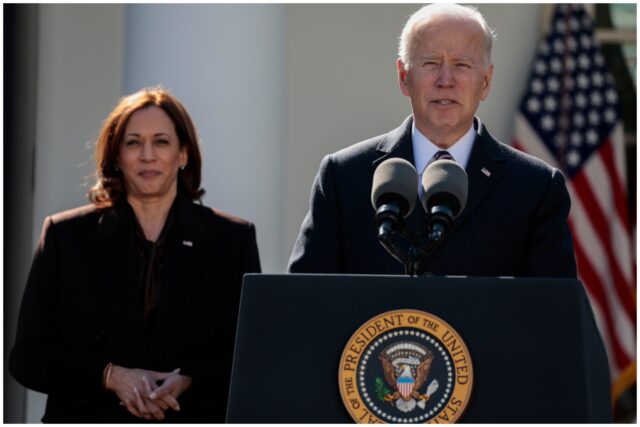 WASHINGTON, D.C. – The U.S. Department of Labor announced the award of nearly $90.4 million in YouthBuild grants to provide training and apprenticeships to young adults who are not enrolled in school or working in construction and other in-demand industries.
Following its Nov. 23, 2021 announcement of available funding, the department awarded 68 grants – ranging from $700,000 to $1.5 million – to organizations in 28 states and Puerto Rico.
Participants will engage in classroom learning that will prepare them for building and rehabilitating affordable housing for low-income or homeless families in their communities.
Participants will split their time between workplace training and the classroom, where they will earn a high school diploma or equivalent degree to prepare for postsecondary opportunities.
Administered by the department's Employment and Training Administration, the latest YouthBuild grants complement the Biden-Harris administration's workforce priorities to focus on green building techniques, including understanding sustainable building materials, solar panel installation, weatherization processes and the use of Energy Star appliances.
The training will also further the President Biden's Justice40 Initiative, which  commits to delivering at least 40 percent of the benefits from federal climate and clean energy investments to disadvantaged communities.
For the first time, the YouthBuild funding opportunity announcement included criteria that awarded bonus points for applicants who demonstrated their ability to provide training in green construction techniques, training the next generation of workers for resilience and clean energy careers of the future.
YouthBuild programs also train young people for employment in healthcare, information technology, manufacturing and logistics, culinary arts and hospitality.
Learn more about the YouthBuild program.
Following is the list of YouthBuild grant recipients:
| | | | |
| --- | --- | --- | --- |
| Recipient | City | State | Amount |
| Bessemer Housing Authority | Bessemer | AL | $1,500,000 |
| Housing Authority of Birmingham District | Birmingham | AL | $1,500,000 |
| Cornerstone Revitalization Foundation Inc. | Birmingham | AL | $1,259,237 |
| Huntsville Housing Authority | Huntsville | AL | $1,500,000 |
| Alliance for Community Empowerment | Canoga Park | CA | $1,332,000 |
| EntreNous Youth Empowerment Services Inc. | Compton | CA | $1,500,000 |
| Coalition for Responsible Community Development | Los Angeles | CA | $1,500,000 |
| Volunteers of America of Los Angeles | Los Angeles | CA | $1,425,519 |
| City of Richmond | Richmond | CA | $1,199,000 |
| Year One Inc. | Denver | CO | $1,114,987 |
| Wilmington Housing Authority | Wilmington | DE | $1,500,000 |
| Lakeland Housing Authority | Lakeland | FL | $1,500,000 |
| Gang Alternative Inc. | Little Haiti/Miami | FL | $1,500,000 |
| AMIkids Space Coast Inc. | Melbourne | FL | $1,500,000 |
| Citrus Levy Marion Regional Workforce Development Board Inc. | Ocala | FL | $844,712 |
| AMIkids Panama City Marine Institute Inc. | Panama City | FL | $1,500,000 |
| Urban League of Greater Atlanta | Atlanta | GA | $1,500,000 |
| Georgia Building Trades Academy Inc. | Atlanta | GA | $1,152,000 |
| Quad County Urban League Inc. | Aurora | IL | $1,146,713 |
| Housing Authority of Champaign County | Champaign | IL | $1,500,000 |
| Community Development Institute | Chicago | IL | $1,062,000 |
| Spero Family Services | Mount Vernon | IL | $864,000 |
| YBLC Inc. (YouthBuild Lake County) | North Chicago | IL | $1,350,000 |
| Youth Conservation Corps | Waukegan | IL | $1,500,000 |
| Fort Wayne Housing Authority | Fort Wayne | IN | $1,500,000 |
| Alliance for Strategic Growth Inc. | Muncie | IN | $791,276 |
| Young Adult Development in Action Inc. (YouthBuild Louisville) | Louisville | KY | $1,500,000 |
| Quad Area Community Action Inc. | Hammond | LA | $1,296,000 |
| Housing Authority of the City of Shreveport | Shreveport | LA | $1,500,000 |
| Old Colony Young Men's Christian Association Inc. | Brockton | MA | $1,100,000 |
| Community Teamwork Inc. | Lowell | MA | $1,500,000 |
| Detroit Employment Solutions Corp. | Detroit | MI | $1,500,000 |
| Detroit Housing Commission | Detroit | MI | $1,500,000 |
| SER Metro-Detroit | Detroit | MI | $1,458,000 |
| Bethany Christian Services | Grand Rapids | MI | $1,399,999 |
| Bi-County Community Action Programs Inc. | Bemidji | MN | $972,000 |
| St. Joseph Youth Alliance | St. Joseph | MO | $1,350,000 |
| Bridging Families to Communities and Beyond | St. Louis | MO | $1,098,000 |
| West Jackson Community Development Corp. | Jackson | MS | $1,500,000 |
| Meridian Housing Authority | Meridian | MS | $1,500,000 |
| Career Training Institute | Helena | MT | $1,260,000 |
| Housing Authority of the City of Elizabeth | Elizabeth | NJ | $1,500,000 |
| St. Nicks Alliance | Brooklyn | NY | $1,500,000 |
| The Service Collaborative of Western New York Inc. | Buffalo | NY | $1,500,000 |
| Queens Community House Inc. | Jamaica | NY | $1,259,199 |
| Ulster YouthBuild | Kingston | NY | $1,069,258 |
| The Crenulated Company Ltd. (New Settlement Apartments) | New York | NY | $1,500,000 |
| Nubian Directions II Inc. | Poughkeepsie | NY | $1,100,000 |
| Urban League of Rochester | Rochester | NY | $1,100,000 |
| Towpath Trail High School | Akron | OH | $1,500,000 |
| OhioGuidestone | Berea | OH | $1,152,000 |
| Easter Seals TriState | Cincinnati | OH | $1,261,405 |
| LIFT Community Action Agency Inc. | Hugo | OK | $953,964 |
| Portland YouthBuilders | Portland | OR | $1,500,000 |
| Philadelphia Youth for Change Charter School | Philadelphia | PA | $1,500,000 |
| Crispus Attucks Association of York, Pennsylvania | York | PA | $1,100,000 |
| Boys and Girls Clubs of Puerto Rico | San Juan | PR | $1,499,282 |
| South Carolina Regional Housing Authority No. 3 | Barnwell | SC | $1,500,000 |
| AMIkids Beaufort Inc. | Seabrook | SC | $1,500,000 |
| South Memphis Renewal Community Development Corp. | Memphis | TN | $1,500,000 |
| CLC Inc. | Fort Worth | TX | $1,250,000 |
| Motivation, Education and Training Inc. | New Caney | TX | $1,199,000 |
| Walker Montgomery Community Development Corp. | New Waverly | TX | $1,080,000 |
| 100 Black Men of San Antonio Inc. | San Antonio | TX | $1,500,000 |
| Northeast Washington Educational Service District 101 | Spokane | WA | $1,348,720 |
| Community Action Inc. of Rock and Walworth Counties | Beloit | WI | $1,425,520 |
| Operation Fresh Start | Madison | WI | $891,029 |
| Randolph County Housing Authority | Elkins | WV | $1,198,500 |
| Total Awarded | | | $90,363,320 |