LITHONIA-GA—The NAACP DeKalb County branch unveiled a historical marker at Kelly Park, located in the heart of the city, on Feb. 24.
Mayor Shameka Reynolds joined the NAACP  for the 1 p.m. ceremony to commemorate the victims of lynchings that took place in Lithonia and others throughout America after Reconstruction was abandoned in 1877. Following the Civil War, white mobs, in resistance to rights mandated for African Americans, terrorized, tortured and lynched thousands of blacks between 1877 and 1950 across America.
"The project is an answer to telling the true story behind racial terrorism," said Teresa Hardy, President of NAACP DeKalb.
The Community Commemorative Project has documented 592 of those lynchings, four of them in DeKalb County.
The Lithonia marker, where two black men were lynched on April 2, 1892, was the second of three markers to commemorate four DeKalb lynching victims. The first marker, commemorating Reuben Hudson, was erected in front of the DeKalb County Courthouse in Decatur on May 14, 2020. The third marker will be erected in Druid Hills where Porter Turner, a taxi driver was killed on Aug. 21, 1945 by the Ku Klux Klan.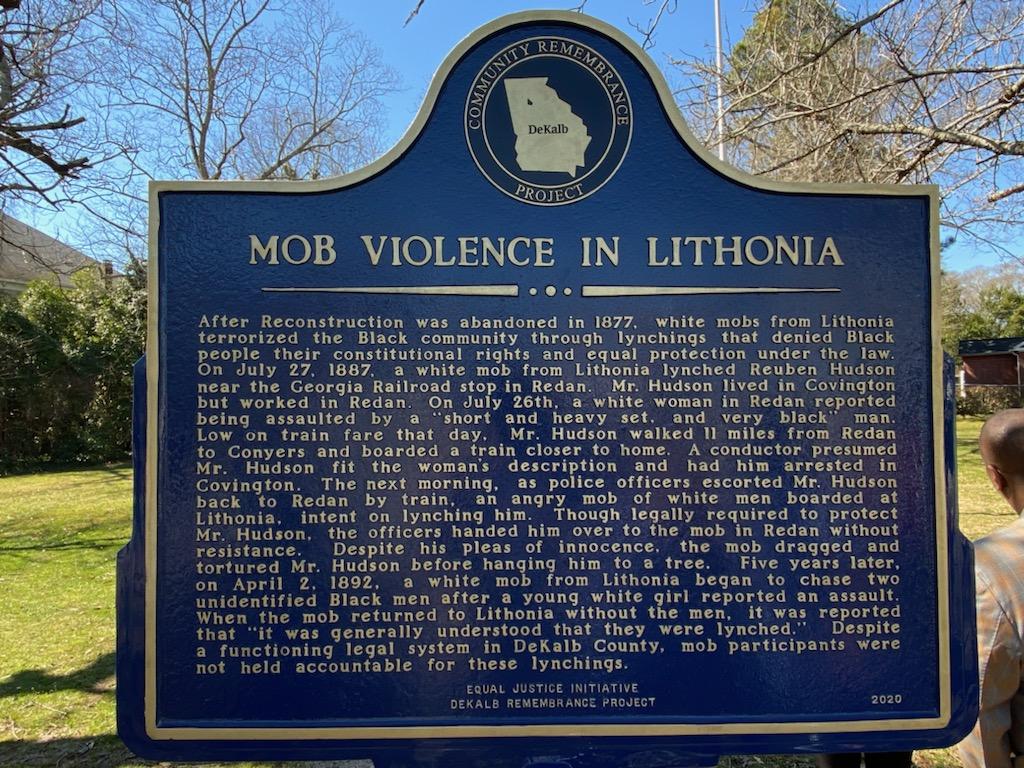 NAACP DeKalb got involved in the Remembrance Project after members of the branch visited the National Memorial for Peace and Justice, which opened in downtown Montgomery, Alabama on April 26, 2018. The memorial was founded by the Equal Justice Initiative to commemorate past racial terrorism and advocate for social justice and is working to have markers placed in other places where lynchings have occurred.
Attorney D.E. Smith, who serves on NAACP DeKalb's executive committee and chairs the DeKalb Remembrance Project, said a diverse coalition of more than 60 volunteers helped bring DeKalb's project to fruition in collaboration with the Equal Justice Initiative.  Troy Vincent, who owns the Engraving House and serves as 3rd Vice President of the NAACP DeKalb, installed the marker in Lithonia and Decatur.