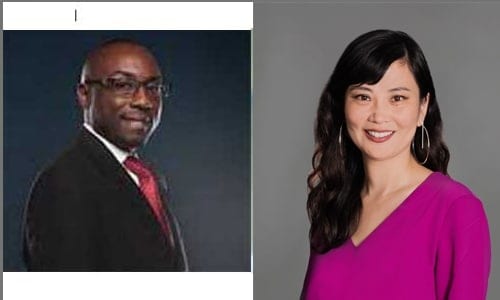 DeKalb County Commissioner Larry Johnson and Atlanta Executive Director Stephanie Cho
DeKalb Commissioner Larry Johnson credited with helping to expand language access
DeKalb County is the first county in Georgia to offer an officially translated ballot in an Asian language, going beyond the federal Voting Rights Act to expand meaningful language access to voters, Advancing Justice-Atlanta(AJA) officials announced today(Oct. 29).
AJA officials thanked DeKalb County Commissioner Larry Johnson for his leadership on the initiatives in working with the Dear Georgia It's Time campaign, which was led by Asian Americans Advancing Justice-Atlanta and supported by more than 30 voting rights groups.
"Today's announcement marks a turning point for our fight to strengthen voting rights, ensuring that more Georgians will be welcomed and included in our democracy," said Stephanie Cho, executive director of Advancing Justice-Atlanta. "Georgia is a critical state in the election with rapidly growing Asian American, Pacific Islander (AAPI) and Latinx communities. By providing in-language voting resources, DeKalb County's election officials are demonstrating statewide leadership on how to make it possible for all Georgia voters to have a voice in shaping our state and country's future."
Cho said the voting rights organizations would continue to push for language access for Georgia's more than 165,000 Limited English Proficient (LEP) voters.
Earlier this month, Advancing Justice-Atlanta's Policy Director, LaVita Tuff made a series of language access recommendations to Commissioner Larry Johnson and the Board of Commissioners' County Operations Committee. Johnson chairs the DeKalb County Operations Committee, which works in partnership with the Board of Elections and Registrations to ensure to DeKalb offers exceptional voter experience. Tuff's recommendations coincided with the DeKalb Board of Registrations and Elections (BRE) being awarded a $4.8 million grant to improve election processes and restore voter confidence.
"Today was a remarkable day that will go down in Georgia's history books. .So many families will now have an opportunity to cast their vote in a way that empowers them. The actions of DeKalb County help to create and restore LEP voter confidence," Tuff said in a memo.  "We can not thank Commissioner Larry Johnson enough for his leadership on this and for being a champion for language access. We also celebrate and thank our Executive Director Stephanie Cho, whose strategic fight to create language access has paid off for so many LEP voters in time for Election Day."
Johnson said making every vote count is critical.
"The infusion of resources and the collaboration with Advancing Justice-Atlanta will be meaningful as we work together to advance language access ahead of Election Day. We must have every voice and vote heard and counted to continue to make this democracy better," said Johnson.
Jerry Gonzalez, Chief Executive Officer of Georgia Association of Latino Elected Officials said the translated ballots were part of a years-long fight.
"In Gwinnett County, though we fought for the election board to voluntarily adopt Spanish language accommodations, they only acted once the Census Bureau determined that Gwinnett County was required to under the Voting Rights Act. It was a significant win to have both the moral and legal backing to expand the franchise and we kept on fighting," said Gonzalez. "None of us have forgotten that the 2018 gubernatorial race was decided by just 55,000 votes, making the estimated 377,000 eligible Latinx voters and the nearly 240,000 eligible AAPI voters in Georgia a decisive constituency. In Georgia, over a third of Latinx and nearly half of AAPIs speak limited English. In DeKalb County alone, there are nearly 34,000 AAPI and Latinx voters."
Today's in-language resources roll-out include: translated sample ballots; frequently asked questions and answers; absentee voter guide; poll location changes; and dropbox locations in Korean and Spanish. The resources will include Advancing Justice-Atlanta's multilingual voter hotline and will be posted on DeKalbVotes.com and available at polling stations. The county also announced a rapid response plan to give poll workers information on language access rights and resources at the polls.