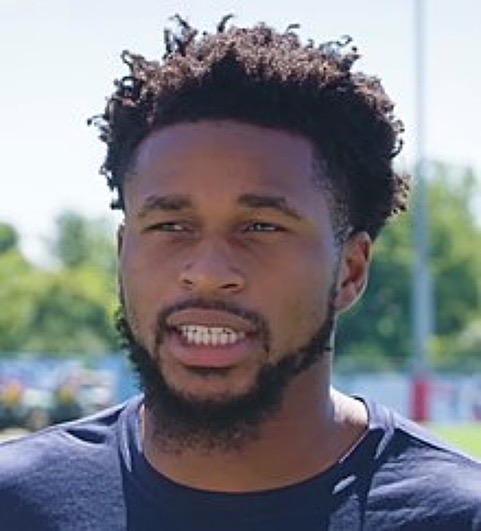 DEKALB COUNTY, GA–NFL All-Pro defensive back Kevin Byard is being honored for his athletic and monetary contributions at Martin Luther King Jr. High School in DeKalb County as the school renames its update athletic facilities in his honor with a ceremony on Friday, May 6, beginning at 4 p.m.
Byard was rated a two-star prospect coming out of King in 2011, despite being named Class 5A All-State by the Atlanta Journal Constitution as a two-way standout for the Lions.
That 2010 football season he had 94 tackles, two interceptions, two block punts and two fumble recoveries on defense while also pulling double duty on offense with 723 yards and six touchdowns on 35 receptions and rushing for 245 yards and two touchdowns. The Lions would go on to advance to the Class 5A Sweet 16 before losing a tough 48-47 decision to Colquitt County.
Byard signed with Middle Tennessee State to continue his academic and football careers where he would go on to be a two-time All-Conference USA player at defensive back. As a freshman he was named a Football Writers AA Freshman All-American and second team All-Sun Belt Conference performer.
He amassed 318 total tackles (6th at MSTU) with 19 interceptions (1st at MTSU) and four touchdowns (1st at MTSU) during his four-year career at Middle Tennessee. In 49 career games played at Middle Tennessee he forced or gained 25 turnovers (19 INTs, 5 FF, 1 FR).
The Tennessee Titans called his name in the third round of the 2016 NFL draft. He was named All-Pro and to the 2017 Pro Bowl as a defensive back in his second season as he collected 87 tackles, eight interceptions and two fumble recoveries. He finished the 2020 season with 111 total tackles and just one interception before turning in another All-Pro/Pro Bowl performance in 2021 (his sixth season) with 88 tackles, 5 interceptions (1 TD) and one fumble recovery for a touchdown.
Byard holds the Titans and NFL record for longest touchdown pass by a defensive player with his 66-yard pass in 2018.
The six-year pro is known for his giving back to the community which had him selected as the Titans' Walter Payton Man of the Year nominee in 2020. During 2020 he was named official spokesperson for the United Way of Greater Nashville. He also was able to give his Mom, Artina Stanley, her forever home in 2020 for all she did for him and his four siblings as a single working mother.
He also gave back to his high school (M.L. King) in recent years to update the Lions weight room and other areas of the athletics facilities.
The staff and M.L. King High family wanted to recognize him for his generosity with the naming of the facilities in his name.
Short meet and greet on Friday at 4:00 pm is scheduled with Byard along with introductions follows. The unveiling and tour of the weight room and Hall of Fame follows at 4:15. Byard will speak to the football and track teams (both sports he participated in at MLK) at 4:30 while refreshments are served in the gym.
A question-and-answer session with the media follows at 4:45 pm. Media are invited to take part in the day for Byard.
 Photo: Courtesy of Tennessee Titans