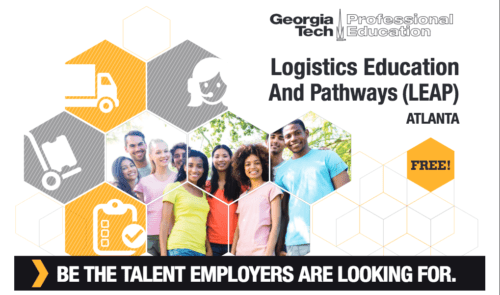 The City of Covington and Newton County are partnering with the Georgia Institute of Technology to provide a pilot program to help spur growth in the field of logistics.
Residents of Newton, Rockdale, Walton, Jasper, DeKalb and Morgan counties are invited to register for the Logistics Education And Pathways (LEAP) program. Tuition is free for the first 100 participants.
"The Georgia Tech Supply Chain & Logistics Institute (SCL) is pleased to partner with the City of Covington, Newton County and the surrounding counties to bring the LEAP online courses in a pilot program to those who are eager to increase their knowledge of the logistics industry," said Carole Bennett, director of Program Development and Marketing at Georgia Tech. "These students will learn the fundamentals needed to help prepare them for entry-level positions in this quickly growing industry."
The four online courses consist of Supply Chain Management Principles, Warehousing Operations, Transportation Operations, and Customer Service Operations. After completing each class, students will receive a Georgia Tech Certificate.
"As demand for qualified job applicants increase, this certificate will only become more valuable," said Covington Mayor Ronnie Johnston. "This is truly a life- changing opportunity that is being made available."
According to Fortune magazine, industries and businesses in logistics will be looking to fill roughly 1.4 million jobs by 2018. The increase in jobs, combined with a shortage of qualified candidates, means one thing – an exciting opportunity for those willing to meet the requirements, officials say.
"We are excited to partner with Georgia Tech, along with the City of Covington, Newton County, Newton County Schools and Newton County Economic Development," said Ralph Staffins, president of the Covington Newton Chamber of Commerce. "This partnership brings this opportunity for career growth to our residents. There are hundreds of logistics jobs on the horizon in Newton County and this opportunity to get a Georgia Tech Professional Education certificate will help them stand out with the tools needed when applying for those positions."
Newton County Chairman Marcello Banes said the training program is a great educational tool for the county.
"That Georgia Tech Professional Education is partnering with the county and our Chamber of Commerce will be a great help to our citizens as they work to get better qualified for some of the many career opportunities available in Newton County," Banes said.
The City of Covington and Newton County are offering an information session for those interested in learning more about the logistics program. The information session will be July 10, 5:30 to 6:30 p.m. at Newton County Courthouse, 1132 Usher Street, N.W., in Covington.
Participants are encouraged to apply for the course at www.scl.gatech.edu/leap prior to attending the information session. To register for the information session, visit www.LEAPNewton.com.
The Georgia Tech LEAP program is supported by donations from JPMorgan Chase and Schneider National.