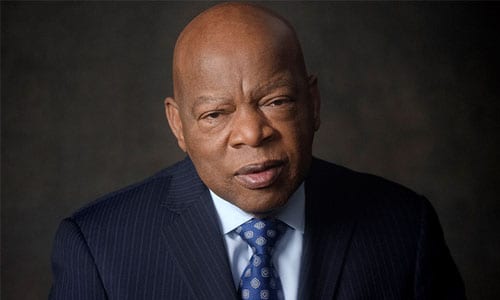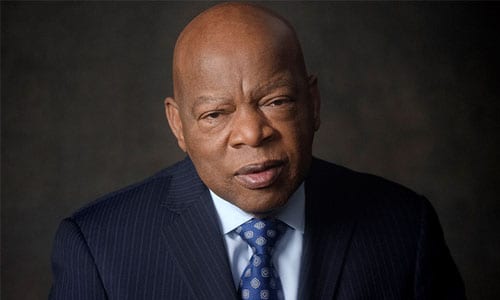 John Lewis Feb. 21, 1940- July 17, 2020
Congressman John Lewis, remembered for "good trouble" is laid to rest in Atlanta Photos by Kelly Jordan, July 29-30,2020








































































































































ATLANTA—A crowd of spectators gathered outside of the historic Ebenezer Baptist Church as Georgia's Congressman John Robert Lewis' casket arrived for his 11 a.m. homegoing celebration on Thursday, July 30.
Nine soldiers from the nation's four military branches carried the casket inside the church, where the private service was officiated by the Rev. Raphael Warnock, Ebenezer's senior pastor and tributes were paid by four former U.S. Presidents: George W. Bush, Bill Clinton, Jimmy Carter and Barack Obama.  The Rev. Bernice King, daughter of the late Nobel Peace prize winner, Dr. Martin Luther King, Jr., led the congregation in prayer.
Due to the coronavirus pandemic and high-level security provided for the former Presidents, access to the funeral, which was handled by Willie Watkins Funeral Home, was restricted to family and invited guests. Participants wore face masks–a common scene at funerals and other public events to slow the spread of the deadly coronavirus.
Former Presidents George W. Bush spoke about the respected statesman that Lewis became, pushing beyond his humble beginnings where he helped his family raise chickens. Former President Clinton remembered Lewis as a devoted public servant who believed in a future without racism.  Former President  Obama, in  delivering a rousing eulogy, called Lewis a beacon who saw the best in all of us.
"He believed in all of us, there exists the capacity for great courage, a longing to do what's right, a willingness to love all people, and to extend to them their God-given rights to dignity and respect," Obama said.
Former President Jimmy Carter could not attend due to his health but sent a letter, which was read during the service. 
House Speaker Nancy Pelosi and former Atlanta Mayor Bill Campbell also spoke. Atlanta Mayor Keisha Lance Bottoms and Congressman Hank Johnson, who represents Georgia's Fourth District, were among several dignitaries who attended. Recording artist Jennifer Holiday sang during the service.
The homegoing in Atlanta marked the final stop of a six-day celebration of Rep. Lewis' legacy in Alabama, Washington, D.C. and Georgia.
The day before the funeral was held, Rep. Lewis' body arrived in a motorcade to lie in state at the Georgia Capitol as onlookers paid their respects. Outside of the Gold Dome, people signed giant farewell cards honoring the Civil Rights hero, who served Georgia for more than three decades. Mourners lay flowers near a John Lewis mural, located at the corner of Auburn Avenue and Jesse Hill Drive in downtown Atlanta, not far from the Capitol. Lewis stood at that corner and spoke during the mural dedication honoring him on Aug. 24, 2012.