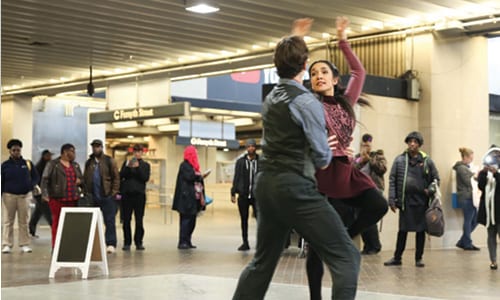 MARTA's Artbound MOVES Program is again partnering with the Serenbe Institute to bring the Terminus Modern Ballet Theater to Five Points Station.
MARTA kicked off the performances on Aug. 23 inside the faregates on the concourse level of MARTA's biggest rail station. The next performance will be on Oct. 18, 4 to 6 p.m.
Artbound MOVES and Serenbe are currently working on bringing a production of Peter Pan to Five Points Station in September.
"The Artbound MOVES program is another way for us to provide unexpected moments of fun for our customers," said MARTA Arts Administrator Katherine Dirga. "It's also an opportunity to share some of Atlanta's best cultural offerings in a unique setting."
MARTA's partnership with the Serenbe Institute is in its second year. Terminus Modern Ballet Theater performed twice during the holidays last year. 
One percent of MARTA's annual budget is allocated to enhance the ridership experience through visual and performance arts.