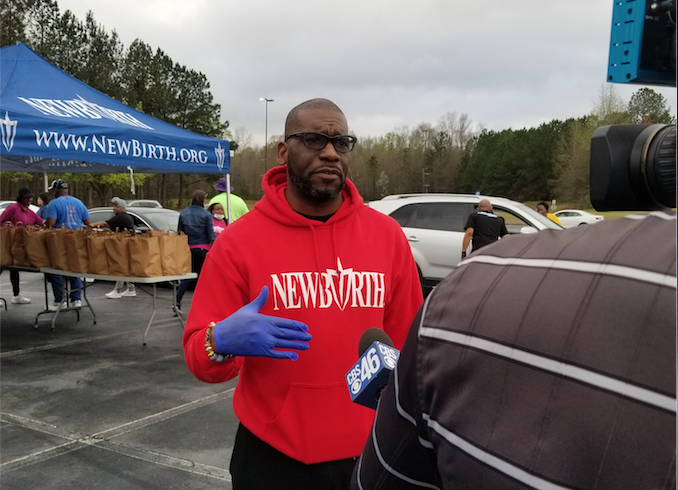 Warning
: count(): Parameter must be an array or an object that implements Countable in
/var/www/wordpress/wp-content/plugins/ultimate-responsive-image-slider/layout.php
on line
15
New Birth
New Birth Missionary Baptist Church's Dr. Jamal Bryant and an army of volunteers gloved up this morning(March 21) to pass out bags of groceries to those in need.
The Stonecrest mega-church's "Father's Table" food pantry provided nonperishables and other items to hundreds of families. The food was distributed in a drive-through format to adhere to CDC recommendations concerning social distancing to help slow the spread of COVID-19.
"As our nation and world responds to this pandemic, it is important to remember those families and individuals who may have limited access to healthcare, are reliant on school meals for nourishment and don't have the luxury to stock up on needed items due to financial hardships," said Bryant, who launched a partnership with Trader Joe's, Publix and other organizations to support New Birth's food pantry effort. "On Tuesday(March 17), we served more families in one day than we typically served in an entire month. This reflects the immense and ever-growing need for all of us to lend a helping hand in these troubling days."
Though New Birth has temporarily suspended face-to-face worship, the church continues to offer spiritual enrichment and hope to its members and community by offering online services and ongoing outreach activities. To view the weekly digital services, log on to newbirth.org on Tuesday at 7:30 p.m. and Sunday at 9:30 a.m. New Birth services are also available on Facebook and YouTube under New Birth MBC. The church's 24-hour prayer line is 770-484-7113.