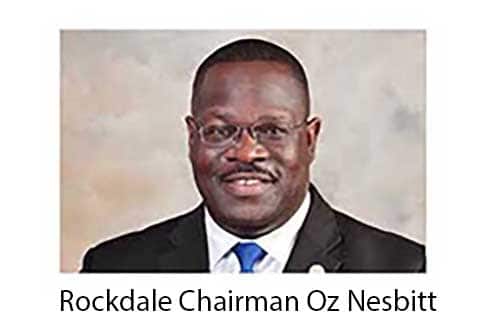 Rockdale County Chairman Oz Nesbitt, Sr. was recently appointed to the Association County Commissioners of Georgia (ACCG) Board of Managers. Nesbitt will serve as one of four National Association of Counties (NACo) Board Representatives. The 2022-2023 Board of Managers was sworn in during a special luncheon at the ACCG Annual Conference in Chatham County.
"Elected by their peers each spring, the ACCG Board of Managers is a group of dynamic leaders that serve as decisionmakers on behalf of our organization," said Executive Director Dave Wills. "I would like to congratulate our newly installed Board and look forward to working alongside them to continue the work of advancing Georgia's counties."
As a NACo representative, Nesbitt will help advocate for Georgia counties on federal policy issues and legislation. He will also work alongside other ACCG board members to lead the association and guide policies during the next year. Nesbitt has served two four-year terms as Commissioner Post 1 and is currently in his second term as Chairman of Rockdale County, Georgia.
"Being able to serve and provide input and leadership on federal policy issues and legislation that will continue to support economic development on both the state and local level is truly an honor," said Chairman Oz Nesbitt, Sr., "I am pleased to have the opportunity to serve on this board to work on issues that have a direct impact on our community."
For a complete list of the 2022-2023 ACCG Board of Managers, click here.
Click here to learn more about the National Association of Counties (NACo).