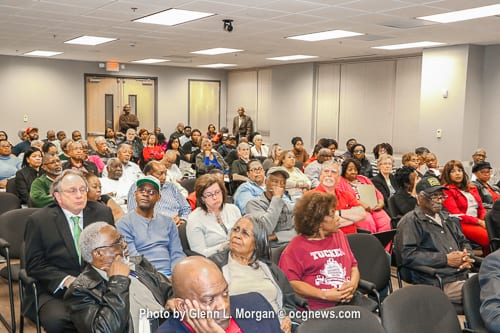 "We are a solid residential neighborhood"
Stonecrest residents slam group homes, drive-throughs, gas stations
by Valerie J. Morgan
Stonecrest residents packed last night's City Council meeting, slamming proposals for two group homes, a drive-through for a Popeye's restaurant and an amendment to the Stonecrest Overlay District that would allow gas stations and other uses that currently are not permitted south of I-20 within the city's borders.
The City Council denied Special Land Use Permits (SLUPs) for a personal care home for veterans at 4185 Panola Road and a drive-through for a Popeye's restaurant proposed at 8200 Mall Parkway (located in the shopping plaza where Panera Bread is located).
In a 4-2 vote, the council deferred action on a group home for boys ages 10 to 16 at 3185 Evans Mill Road, which is located in District 5. Councilmembers Diane Adoma, who represents District 5, and George Turner cast the dissenting votes, urging the council to reject the proposal because it wasn't the will of the community.
"Every single one of my constituents are saying no… As the voice of District 5, I have a record of listening to them and I'm not going to break that record tonight," Adoma said.
"I like what you're doing. I just think that it is not the correct place for it," said Turner.
With the council's deferral, the rezoning request for the boys' group home will go back to the Planning Commission for the applicant to address concerns with regard to oversight and supervision.
One elderly man who spoke said the group home had been illegally operating since at least Halloween. He said some of the children approached him and asked for candy. Another who spoke said one of the children tried to stab his dog through a fence.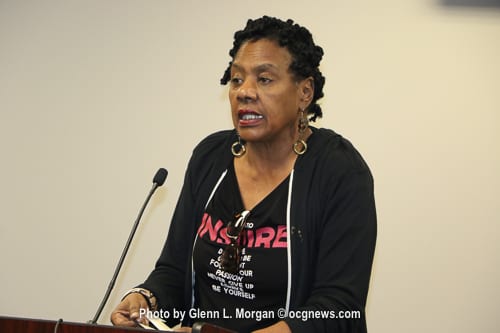 Faye Coffield said the residential community proposed simply is unwanted.
"We are a solid residential community… I'm getting sick and tired of people coming into black neighborhoods trying to put rooming houses, personal care homes and childcare homes in residential areas when there is enough commercial property available," said Coffield, who also said she wanted to know if police had visited the home or any others owned by the applicant.
"These facilities jump from place to place and often in Georgia when you have so many counties together, one county doesn't know the problems of the other county," Coffield said.
Dr. Barbara Lee, a former DeKalb County principal who said she had participated in a study group some years ago, noted the disparity of group homes on the north side versus the south side. Lee said some 35 group homes exist in District 5, compared to "maybe 1" in some areas on the north end of DeKalb County.
"We already have a personal care home, we already have a children's group home on Evans Mill Road," said Lee. "We are disproportionately, in this area, overburdened with personal care homes, group homes, children's homes. We don't have anything against children but there has to be better places than to keep destroying our property. "
Residents also voiced opposition to a drive-through for a Popeye's restaurant, saying they want more food options.
"This idea that all black people want is fried chicken is not true. You got a Bojangle's across the street. We don't need a Popeye's," said Coffield, pointing out that Pesos, a Mexican cantina on Flat Shoals Road in Decatur, is a "prime example" of the kinds of eateries she would like to see more of in the city of Stonecrest.
In other action, the City Council tabled an amendment to the Stonecrest Overlay after Stonecrest Business Alliance Chairman Bernie Knight and others expressed concern that package stores, gas stations and industrial uses permitted south of I-20 in the city would negatively impact communities. Knight, Coffield and Mera Cardenas, executive director for Arabia Mountain Heritage Alliance, said changing the text to permit such uses would hurt areas the overlay was designed to protect including residential communities and the Arabia Mountain National Heritage area.
"This quite frankly is not a good idea. It's a solution looking for a problem. It is no urgency about it, and it is contrary to every principle to the master plan the Stonecrest Overlay was based on," said Knight. "You do not want to allow industrial uses, you do not want to allow convenience stores with accessory fuel pumps or accessory beer and wine sales south of I-20. "
Knight said having gas stations north of I-20 is fine.
"The thing that has precipitated this change in text of the overlay is a new QT that is proposed for the corner of Turner Hill Road and Covington Highway. North of I-20 is fine. It's appropriate out there," said Knight.