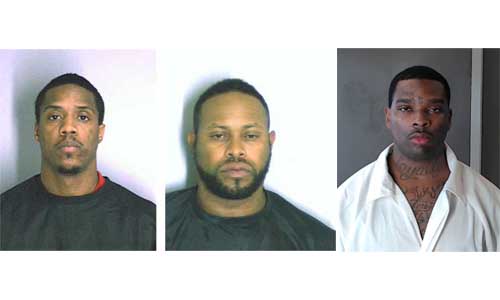 Two high-ranking Georgia members of the 'Bloods' affiliated 'Sex, Money, Murder' gang have been convicted of killing a baby and injuring three women during a deadly home invasion in Stone Mountain.
Jurors returned guilty verdicts on Monday afternoon against Kenneth "K.G." Jackson, 33, and Christopher "Trillz" Florence, 33, on charges of murder, felony murder, aggravated assault, violation of the Street Gang Terrorism and Prevention Act, and weapons offenses for the murder of nine-month old Kendarious Edwards. Marco Fernando Watson, 39, a third defendant, was convicted of weapons offenses in connection with the crime.
The incident happened on May 10, 2014 at the To Lani Farm Road home of the victim's grandmother. Armed gunmen, later identified as defendant Florence and Devin "Rico" Thomas (previously convicted), stormed the home with weapons drawn. The child's mother, grandmother, and another woman who was visiting the home, ran to a bathroom and hid inside of the bathtub while trying to shield the child. The gunmen opened fire, striking the women and the baby multiple times. The victims were transported to the hospital where the infant later died.
The women were wounded, but survived, as did the victim's teen aunt, who escaped the gunfire by hiding in an adjacent bedroom. She called 911 for assistance, investigators said.
Investigators said Jackson authorized the To Lani Farm home invasion from his prison cell in Jackson, Georgia where he was serving time for a series of burglaries. The shooters were searching for a gang member who had reportedly murdered an associate without permission from Jackson. Investigators said Jackson ordered the hit on the home of the missing man's mother in hopes of finding him.
Sentencing for Jackson and Florence is scheduled Nov. 13, 2018 before DeKalb County Superior Court Judge Gregory A. Adams, who presided over the case. Each faces life in prison without the possibility of parole, plus 105 years. Defendant Watson faces 10 years in prison for his conviction on weapons offenses. Defendant Devin Thomas, who testified at trial, is serving life plus 20 years in prison for his role in the crime.
The case was prosecuted by Lance Cross, Director of the District Attorney's Major Case Unit, along with Senior Assistant District Attorney Oto Ekpo. DA Investigators Waine Pinckney and C.D. Smith led the investigation with assistance from Detective J.D. Paden of the DeKalb Police Department.