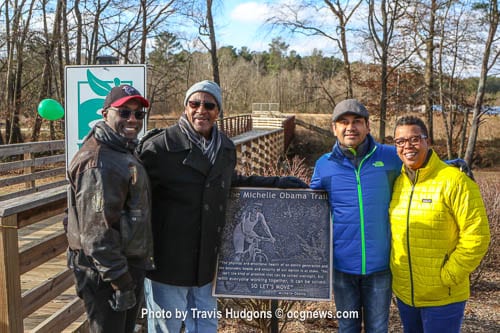 Dozens of people braved the cold weather to join DeKalb County Commissioner Larry Johnson and other officials and community leaders for the plaque unveiling ceremony of the historic naming of the Michelle Obama Walking Trail at Georgia State University-Perimeter College campus. The ceremony was held on Jan. 13.
The walking trail is the first in the country named after former first lady Michelle Obama. Those in attendance expressed their excitement for the occasion.
Inspired by Obama's "Let's Move" health initiative—a public health campaign to reduce childhood obesity, Commissioner Johnson said he wanted a walking trail to honor Obama and her passion of physical fitness.
"This is very significant to DeKalb….It's all about walking and wellness," Johnson said.
Paula Tate, director of the Heart of South DeKalb Festival, said she was excited to attend the historic ceremony.
"The magnitude of this is just awesome," Tate said.
Tate said people in the community should come out and use the trail and enjoy the beauty in South DeKalb.
The 3.8 mile trail begins on the college campus and connects to the Barack Obama Magnet School, ending at the Gresham Recreation Center.
Johnson said the trail highlights the natural beauty in DeKalb and is a gem in the community.
"I want [people] to start walking clubs, bring their children and grandparents—we're a let's move county."